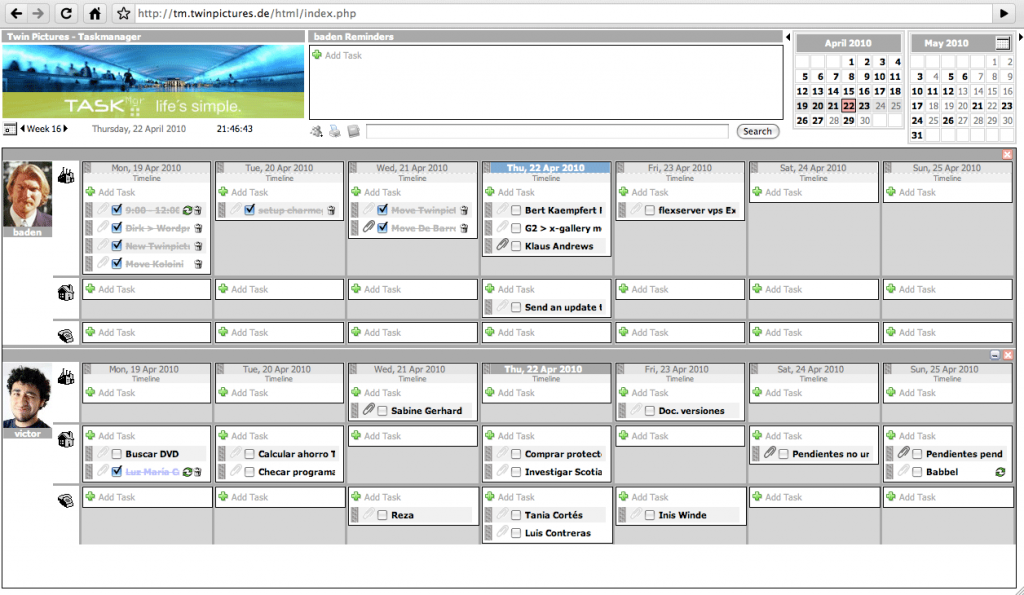 To keep all members of a team on the same page, everyone needs to know what the daily tasks are. TASKmanager software has been written to simplify and share the status of things that need to get done. TASKmanager is a simple, online to-do list management system for teams. Each user can enter appointments and tasks to there own day plan, or share tasks with others.

Appointments, projects and tasks can be coordinated and shared with colleagues that have access. Additionally, joint tasks can be created and shared with one or more colleagues. If there are changes, like a client changing an appointment, simply drag & drop the item to the new day. All entries, even past items, are stored in a database and are searchable. Entries for a specific client can be listed between a specific date-range, providing a detailed report on the exact tasks that where performed.
For the advertising agency "Die Zwillinge" (The Twins) this software has been the solution for the paper chaos on their desks. "Everybody noted tasks on big and small sticky notes: calls, project information, names, to-do etc.", recalls Jörg Schultz, co-owner of the agency. "That is why we asked our partner agency Twinpictures for a software solution with the most important criteria: it must be simple and intuitive to use!" Since the initial release in 2004, several other small and medium-sized companies are happily using TASKmanager for their daily planning.
Feel free to discover how easy it can be to organise your team by test driving an online demo version at http://tm.twinpictures.de.