3D Skycrane animation for blowUP Media. The Skycrane is a cube-shaped, rear-lit advertising framework specially designed to fit around high construction cranes. The goal of the animation was to clarify the overall Skycrane concept and clearly convey the construction process. For more information on Skycrane, visit the blowUP Media Skycrane product page.

Music: "Revolve" by hisboyelroy 2005 – Licensed under Creative Commons
Free Download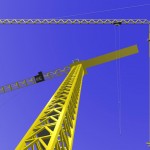 The construction tower crane created by Twinpictures for this animation is available as a free Blender 3D model, licensed under Creative Commons. All that we ask is that if it is used in any cool projects, please post a link in the comments below to show off that oh-so-wild-and-crazy animated crane action.
Download: Free Blender 3D Construction Tower Crane .blend file
WebGL