Note: OFFER EXPIRED
Today the ice blades where picked up, and are shipping out! Look for them to arrive in the next days.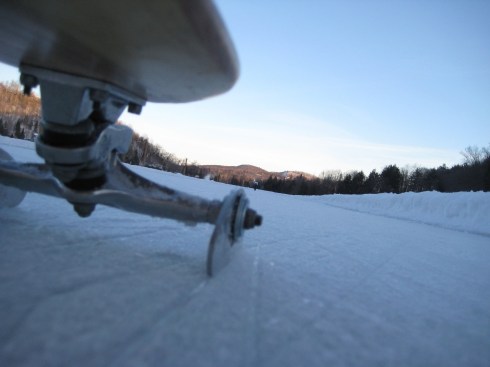 These are ice-blades. Constructed from high quality stainless steel, they simply replace the wheels on your longboard and allow you to carve on the ice. No special tools or additional hardware is required. The blades work well with both longboard and skateboard trucks.

Benmore Blades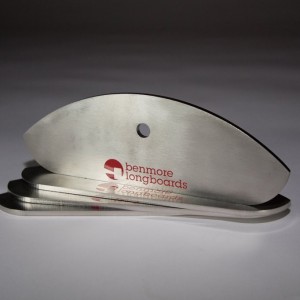 These are original Benmore Blades that can be found online for between $65 to $95 + shipping. They are also made of a high quality stainless steel, and replace the wheels on your longboard. They are very pretty and have been proven to work well-but by the time they arrive to Europe all the ice will have melted. We either wait or create!
Roll-Your-Own Ice Blades
So how hard can it be to create a set of blades? Turns out: not very hard at all. Below are dimensions for a laser-cut stainless steel blade that will be sent for manufacturing on 15 Feb. 2012. There is a significant price discount when producing 20 sets of 4 blades, so we widened the scope to include adventurous space monkeys from the internets!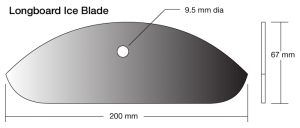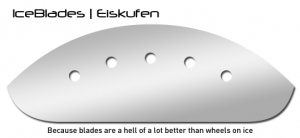 How many space monkeys are genuinely interested in testing a pair? It's time to find out.
Estimated Cost:
€40/Set + Shipping
If 20+ people want a set – only €25/set + shipping
Note: A maximum of 30 sets will be ordered.
Estimated Time
Orders will be frozen when the countdown reaches 00:00:00, and sent for laser cutting one hour later. The estimated production time is 4 – 5 business days. Shipping, well that depends on how far you live from Hamburg, Germany, etc. Are you in? If so, and you are genuinely interested, please fill-out the form, or leave a comment below. Be sure to mention how many SETS (4 blades to a set) you are interested in. Quick, like a monkey… like a space monkey!